Highlights
What admission officers want to see in your essays

Advice for specific essay questions such as why you want an MBA, why you want to study at a particular school, and what you have to offer

A complete essay-writing workshop guides you through developing your topic, writing, editing and perfecting your essay

The 25 most common essay mistakes

Why you should write the optional essay

Plus, gain inspiration from 50 successful essays that students have used to gain admission to: Harvard, Stanford, Wharton, MIT, Columbia, Northwestern, Berkeley, University of Chicago, Duke, Dartmouth, University of Michigan, UCLA, NYU and more

224 pages

Retail: $14.99

What's Inside
You will find everything you need to prepare successful admission essays in this book. Containing 50 real essays students have written to gain admission to top business schools, this guide details the strengths of each essay, the inspiration of the student who wrote it and what makes it a winner. The essays represent a diverse group of students and include those with traditional consulting and business backgrounds, as well as those with nontraditional backgrounds in areas such as public service, the military and culinary arts. Crucial insights are included from business school admission officers who reveal what they are looking for in applicants, and successful applicants describe what worked for them and the mistakes they made that future applicants should avoid. Also included are strategies for the entire admission process, such as how to research the type of students that each school is seeking, ace the interview and get powerful recommendations.
Table of Contents
1. The Admission Essay: Your First Marketing Test
2. How the Admission Process Works
3. Admission Officer Roundtable
4. Essay Writing Workshop
5. Admission Officer Roundtable
6. 25 Most Common Essay Writing Mistakes
7. Essays: Why Do You Want an MBA?
8. Essays: Why Attend This Particular School?
9. Essays: What Do You Offer?
10. Essays: Leadership
11. Essays: Achievements
12. Essays: Overcoming Obstacles
13. Essays: Teamwork
14. Essays: A Day in Your Life
15. Essays: Cross-cultural Experiences
16. Essays: Extracurricular Activities
17. Essays: Most Valuable Possession
18. Essays: Defining People and Moments
19. Essays: Passions
20. Essays: The Optional Essay
21. Finishing Touches
22. Contributors and Organizations
Reviews
"The book is filled with student-tested strategies to help applicants write better essays that stand out from the pile."
--Pam Costa, Santa Clara Vision
"An exceptional investment."
--Publishers Weekly
"Helpful, well-organized guide, with copies of actual letters and essays and practical tips."
--KLIATT
"Upbeat tone and clear, practical advice."
--Book News
"Invaluable information."
--Leonard Banks, The Journal Press
"The Tanabes literally wrote the book on the topic."
--Bull & Bear Financial Report
"The first book to feature the strategies and stories of real students."
--New Jersey Spectator Leader
Buy Now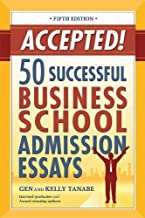 Accepted! 50 Successful Business School Admission Essays
By: Gen & Kelly Tanabe
224 pages
Special Amazon Price: Click to View