Highlights
Find the best scholarships

Double your scholarship dollars and college savings

Pay in-state tuition even if you're an out-of-state student

Jump-start your college savings with 529 Savings Plans and Coverdell ESAs

Claim your $2,500 American Opportunity Tax Credit and $2,000 Lifetime Learning Credit

Avoid taxes on your tuition

Get your share of the $238 billion in financial aid awarded each year

Have your student loans forgiven

512 pages

Retail: $19.99

What's Inside
Completely revised with updated descriptions, contact information, websites and scholarships, this guide to financing higher education is the only resource you need to fund your pursuit of knowledge. Balancing detailed explanations with real-life examples and practical resources, the featured topics include finding and winning scholarships, requesting a reassessment from colleges for more financial aid, maximizing assistance from state and federal governments, taking advantage of educational tax breaks and benefiting from government-subsidized student loans. Creative strategies—such as starting profitable dorm-room enterprises, trading tuition costs for volunteer service, and canceling debts with loan repayment programs—help students find extra money when more traditional routes are exhausted. The provided tips are designed for students of all ages and levels and their parents.
Table of Contents
Chapter 1: The Many Ways to Pay for College
Chapter 2: Find a Scholarship
Chapter 3: Contests for Students
Chapter 4: Guaranteed Scholarships
Chapter 5: Reward Programs for Students
Chapter 6: Save for College
Chapter 7: Tax Breaks for Students
Chapter 8: Maximize Financial Aid
Chapter 9: Asking for More Financial Aid
Chapter 10: Avoid Financial Aid Scams
Chapter 11: Get Your State to Pay
Chapter 12: Borrow Money for College
Chapter 13: Loan Forgiveness Programs
Chapter 14: Military Options
Chapter 15: Save Money While in College
Chapter 16: Make Your College Cheaper
Chapter 17: Be a Dorm Room Entrepreneur
Chapter 18: Internships and Part-time Jobs
Chapter 19: Be a Part-time Student
Chapter 20: Opportunities for Adult Students
Chapter 21: Opportunities for Graduate Students
Chapter 22: Conclusion
Reviews
"Upbeat, well-organized and engaging, this comprehensive tool is an exceptional investment for the college-bound."
--Publishers Weekly
"A present for anxious parents."
--Mary Kaye Ritz, The Honolulu Advertiser
"Upbeat tone and clear, practical advice."
--Book News
"Unlike other authors, the Tanabes use their experiences and those of other students to guide high school and college students and their parents through the scholarship and financial aid process."
--Palo Alto Daily News
"What's even better than all the top-notch tips is that the book is written in a cool, conversational way."
--College Bound Magazine
"A 'must' for any prospective college student."
--Midwest Book Review
"The Tanabes literally wrote the book on the topic."
--Bull & Bear Financial Report
"The college experience—start to finish."
--Town & Country Magazine
"Filled with student-tested strategies."
--Pam Costa, Santa Clara Vision
"The first book to feature the strategies and stories of real students."
--New Jersey Spectator Leader
Buy Now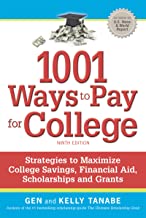 1001 Ways to Pay for College
By: Gen & Kelly Tanabe
512 pages
Special Amazon Price: Click to View