Highlights
Includes advice from college admissions officers

25 essay mistakes that guarantee failure

How to select the best topic

What Ivy League admissions officers want to see in your essay

240 pages

Retail: $14.99

What's Inside
For every open spot at an Ivy League college, there are 10 to 12 eager applicants vying for it--and you're one of them. On paper, most applicants appear the same. All are well qualified academically with high grades and test scores and solid involvement in extracurricular activities.
The essay is where you stand out. The essay is your opportunity to demonstrate why you are a perfect fit at the college, how you will contribute to the student body and why the college should accept you over those other 11 applicants. This guide will help you craft that winning essay. You will learn:
How to select the best topic


What Ivy League admissions officers want to see in your essay


The 25 mistakes that guarantee failure


The top tips from Ivy League students on how to write a successful essay
Plus, there are more than 50 real essays from students accepted to Ivy League colleges and MIT, Stanford, Caltech, Duke and the University of Chicago. Each includes a complete analysis so you can see exactly what worked and even what could be improved upon.
Reviews
Critical Acclaim for Books by Gen and Kelly Tanabe
"Upbeat, well-organized, and engaging, this comprehensive tool is an exceptional investment for the college-bound."
—Publishers Weekly
"Helps college applicants write better essays."
—The Daily News
"Invaluable information."
—Leonard Banks, The Journal Press
"A present for anxious parents."
—Mary Kaye Ritz, The Honolulu Advertiser
"Helpful, well-organized guide, with copies of actual letters and essays and practical tips. A good resource for all students."
—KLIATT
"When you consider the costs of a four-year college or university education nowadays, think about forking out (the price) for this little gem written and produced by two who know."
—Don Denevi, Palo Alto Daily News
"What's even better than all the top-notch tips is that the book is written in a cool, conversational way."
—College Bound Magazine
"Offers advice on writing a good entrance essay, taking exams and applying for scholarships, and other information on the college experience—start to finish."
—Town & Country Magazine
"I recently applied to Cornell University. I read your book from cover to back, wrote an essay about 'Snorkeling in Okinawa' (which most people criticized), and got ACCEPTED to Cornell. Thank you very much for your help, and I'll be sure to refer this book to anyone applying to college."
—Jason Clemmey
Buy Now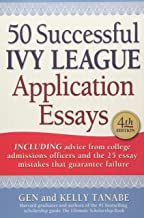 50 Successful Ivy League Application Essays
By: Gen & Kelly Tanabe
240 pages
Special Amazon Price: Click to View