Highlights
Writing tips and step-by-step guidance from prewriting to revision

Calendars, checklists, self-evaluation tools and scholarship resources

Specific chapters for students of color, athletes, special-needs learners and first-generation college bound students

208 pages

Retail: $19.99

What's Inside
The quest for admission into a top college is an exciting journey!
Dream College
presents a clear roadmap to this destination. This book synthesizes Dr. Ezeze's three decades of academic advising into a user-friendly guide, detailing the path from high school, to selecting the right colleges, to the application process, to thriving as an undergraduate.
Writing tips demystify the college admission essay, offering step-by-step guidance from prewriting to revision. Plus 18 real admission essays are fully analyzed.


Calendars, checklists, self-evaluation tools and scholarship resources enable students and parents to chart a purposeful course.


Financial aid resources detail need-based and merit-based scholarships from federal, state and local programs, in addition to private monies from colleges, universities and the corporate sector.


Individual chapters speak directly to students of color, athletes, special-needs learners and first-generation college bound.
Reviews
"Dr. Ezeze has written one of the most comprehensive college guides I have read in my 30+ years as a college admission professionals. Using the wisdom and knowledge acquired over his impressive career, he has taken what can be a daunting process and broken it down into manageable and achievable pieces. This is a must-read not only for the parents of high school students but for those parents with children in middle school as well.
Dream College
is a valuable addition to the home reference library."
— Sharon M. Alston, Executive Director for Enrollment Management, American University
"
Dream College
is one of the most comprehensive guides to the college admissions process presently on the market. It goes so much further than other guides because Dr. Ezeze shares information about admission practices that he has gained by having personal and up front conversations with admissions professionals at colleges across the county. The information in this book will be invaluable to students and parents as they begin the quest to not just college but to their 'Dream College.'"
— Norma Paige, Guidance Counselor, Scotch Plains Fanwood High School
"
Dream College
is unmatched in the quality of its information, scope, and timeliness. I have known Dr. Ezeze for about two decades, and he really knows the college admissions business through and through-from research to application to making college dreams come true. This is a comprehensive and useful resource for all readers. This is a great book!"
— Audrey T. Hill, Transfer Counselor/Professor, Montgomery College, Maryland
"As a college student, I lament that I could not have Dr. Ezeze's book in my hands a few years ago. The emphasis on early planning would have eliminated misguided decisions. The chapters on college athletics and financial aid would have been indispensable during my college selection process. Fortunately, Dr. Ezeze also provides valuable information about what to expect while in college, which has been invaluable."
— Erik Torenberg, University of Michigan, Class of 2012
"As a student I see
Dream College
as offering many routes to a single destination. Its comprehensive nature makes this book a must read for high school students, college students, parents, and even counselors alike."
— Nnamdi Obodo, University of Virginia, Class of 2012
Buy Now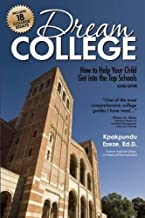 Dream College
By: Kpakpundu Ezeze
208 pages
Special Amazon Price: Click to View