Highlights
Reviews and insights from students and college experts

Strategies for finding, getting into and paying for the right school for you

Specific scholarships and admissions tips for each college

992 pages

Retail: $24.99

What's Inside
The only college guide that gives you detailed profiles of the 300 best colleges, plus essential statistics and admission information, to help you select and get into the perfect school.
In-depth coverage of the colleges' academics, student life, campus vibe, athletics, admissions, scholarships, and financial aid.


Insider views and insights into what makes each college unique, plus honest appraisals of each college's strengths and weaknesses.


Vital information on the admissions and financial aid process for each college.
In addition to the detailed essays on each school you will find:
The top 25 tips to help you determine your best college match


The strongest majors for each college


Descriptions of special academic opportunities, study-abroad programs, and career services


Admissions tips, deadlines, requirements, and the importance of each criteria


Specific details on financial aid and merit-based scholarship programs


Indexed rankings of colleges by majors and cost


Exclusive rankings of the 100 Best College Values
Reviews
"Finally…one college book that does it all by providing relevant statistics in an easy-to-read format and helpful text to better understand the nuances of each university."
— Dr. Robin Boren, The College Doctor LLC, Former Director of Guidance, Dakota Ridge High School
"I was mesmerized by the attention to detail in this book! The descriptive nature of the book gave me the impression I was strolling across a campus in the middle of a typical day in the life of a college student. I loved the straightforward nature of the book and believe it will become a classic amidst the host of material dedicated to the college selection process."
— John Beischel, College/Career Counselor and Department Chair, Princeton High School
"Choosing the right college can be a daunting task. Academics, student life, and financial considerations have an impact on the decision making process. This comprehensive guide will be a valuable tool for students and parents."
— Christine Bland, Gifted Resource Teacher, West Chester East High School
"The most honest guide to colleges that I have come across. Not only does this book present the positive aspects of each school, it also discusses potential drawbacks. Throughout the guide, you hear from various students on the campuses who maintain the same degree of honesty. You really get a feel for what it may be like to walk onto each campus."
— Peggy Espada, Director, Wilkes University Upward Bound
"If you are exploring colleges,
The Ultimate Guide to America's Best Colleges
should be your first purchase! Up-to-date information both positive and negative that you may not find elsewhere."
— Linda Kimmel, College/Career Specialist and AP and California, Partnership Academies Coordinator, Irvington High School
"In an age where a college education is a major commitment of family resources including money, time, and emotion, and high school juniors and seniors are inundated with information, this book should be a 'must-read!' The details and insights provided are so timely and unique that they're not found in other guides and students may not even think to ask about them!"
— Sue Beattie, College & Career Center, Rush-Henrietta Sr. High School
"The layout of this book and the information included sets it apart from many of the college guides on the market. Students can quickly look at the highlights listed for each college and decide if they want to read more about the school.
"The detailed description of each school is well written, easy to read and includes information that other books don't have. I love the You May Not Know sections because they bring to life some of the history and/or traditions of the schools, creating a more personal connection for the reader. In addition, the information listed in financial aid and scholarships is invaluable because it identifies various scholarships and aid available to families.
"I will definitely use this book with my college bound students and their families and recommend it to anyone who's looking for a must have college book."
— Chris Ward, School Counselor, Lake Park High School
"Finally, a book that has it all! Students need to see the hard data about colleges but will really get invested in the selection process when they read about the uniqueness of the institution.
The Ultimate Guide to America's Best Colleges
brings both perspectives to the reader and much more. A godsend for savvy students."
— Lana Klene, Counselor, Lawrence North High School
"
The Ultimate Guide to America's Best Colleges
has unique features to consider. For the reader looking for a quick summary, the sidebars in the college profiles contain distinctive information, such as the percentages of classes of various sizes instead of just the average and information about wait lists. When it's time to read in detail, each profile is written for students in clear, friendly language. If you can only afford one book, this is the one!"
— Lynda McGee, College Counselor, Downtown Magnets High School
"
The Ultimate Guide to America's Best Colleges
provides a balanced approach to learning about various colleges and universities across the country. It not only supplies useful data and statistics, it gives the reader a sense of being right there on the campus learning firsthand about the individuality of each institution, how current students perceive their school, what opportunities that they can take advantage of over their four years, and how these experiences would prepare students for their future endeavors."
— Dr. Mary O'Reilly, NCC, NCSC, College Counselor, Josephinum Academy
"
The Ultimate Guide to America's Best Colleges
is incredibly detailed, and yet the important information about the college statistics are concise and to the point. Potential college applicants will find step-by-step information on the process of understanding the features of a school and the questions to ask to narrow down the choices."
— Holly Craw, Phoenix Homeschooling Examiner, Homeschool Consultant
"There are many guidebooks that give facts and figures but do little to distinguish between the character of various schools. This book resonates with my students because it paints a picture for them as if they were there. It serves as a quick reference when I am working with my students. In particular, sections like Distinguished Alumni, Graduate School and Employment Rates, and the Merit Based Aid provide quick talking points I can use when trying to convince a student to explore a school that is new to them. It has become a part of my counseling tool kit."
— Tricia Bryan, College Counselor, John Marshall High School
"An essential must have for any student considering a post-secondary education. The guide is written in a format that is easy to read and understand, while focusing on the many points that professionals like myself try to emphasize to my students and their parents."
— Marcia Duffy, Counselor, Bishop Timon - St. Jude High School
Buy Now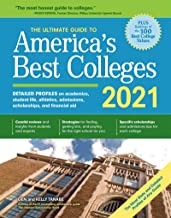 The Ultimate Guide to America's Best Colleges 2021
By: Gen & Kelly Tanabe
992 pages
Special Amazon Price: Click to View