Highlights
Includes profiles of the college's academic, physical and social environments

Match your learning style to the school's academic philosophies and majors

Detailed profiles of 82 exceptional schools

384 pages

Retail: $19.99

What's Inside
A comprehensive approach to selecting a college that is in tune with a student's learning style, this guide offers a personalized, psychology-based approach to selecting the perfect university. Taking into account personal interests and personality types, this reference will help students and parents choose the most appropriate school from the listings of nurturing liberal arts schools, research-oriented universities, creative or spiritual campuses and more. With accessible tables and simple descriptions of campuses and majors, college bound students and their parents will find self-assessments and suggestions for 82 well-known colleges. Index to all 82 profiled schools:
http://www.findtheperfectcollegeforyou.com/index.html
Table of Contents
Note from the Authors
Chapter 1 - What is in This Book
Chapter 2 - Three Powerful Tools Viewed in Action on College Campuses
Chapter 3 – Uncover Your Personality Preferences and Type
Chapter 4 - Introduction to the High School Personality Types
Chapter 5 - The College Descriptions with Types, Majors and Environments
Chapter 6 - The Tables of Colleges and Majors Recommended for Personality Types
Reviews
"This book is long overdue! At last two professionals have combined qualitative research, experience, interviews, and site visits to produce a practical guide for college bound students and their families.
"It is an easy read filled with common sense strategies every decision maker in today's economy needs to reach the appropriate site 'match.'
"Hats off to these two--They hit the bull's-eye!"
--George de Lodzia, Ph.D., Emeritus Professor of Business Administration, University of Rhode Island
"Rosalind Marie and Claire Law have crafted a unique and impressive volume that can serve readers who want to use personality type as one of the tools for understanding and choosing a college."
--Charles Martin, Ph.D., author of Looking at Type: The Fundamentals and Looking at Type and Careers
"Students, their parents, and their advisors will gain from the insights provided here. This is new and valuable college planning territory. Take a look. These pages take college planning to a new level."
--Steven R. Antonoff, Ph.D., Certified Educational Planner, Antonoff Associates, Inc.
"No one other than Rosalind Marie and Claire Law could have written this book. They know students, and they know colleges. They tell you why and how a student's MBTI® personality fits well at specific colleges.
"Through the lenses of the MBTI® personality preferences, the authors reveal how students' personality and learning style fit at specific colleges. The authors researched and merged student attributes with what the college offers. Students will find ready-made lists of colleges that are likely to be a solid match for them.
"The process of choosing a college through this method is an entirely more self-directed, conscious way of going to college. Students will get to know themselves better and will understand the ethos of the college after reading this book.
"By opening any given page, students will get a bull's eye view of the college of their dreams--the idyllic four magic years of living and learning."
--Sue Bigg, MPH, CEP, educational consultant
"This book presents a proven, effective tool for the job of finding a college! Each one of our high school seniors has been able to pick their major and find a college by working through this process. What a relief!"
--Lori Pohly, parent, Huntsville, AL
Buy Now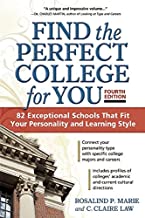 Find the Perfect College for You
By: Rosalind P. Marie and C. Claire Law
384 pages
Special Amazon Price: Click to View