Highlights
Capture the attention of college coaches

Get inside information from college coaches and trainers

Avoid common recruiting pitfalls

Train 24-7 for athletic and academic success in college

272 pages

Retail: $16.99

What's Inside
Do you dream of becoming a college athlete but don't understand when, why, or how? And once you get on the team, how do you succeed and thrive as a college student-athlete? The truth is there is a place for everyone–academically and athletically. This book is your go-to guide if you're a high-school student (or parent of one!) who dreams of participating in college athletics.
Inside you'll find information that will help you develop a game plan to:
Capture the attention of college coaches while still in high school and learn how to market yourself to become one of their top prospects


Win an athletic scholarship and get financial aid


Select the right college for you and your sport


Get recruited by colleges even if you aren't a superstar


Successfully navigate the complex NCAA rules


Develop your skill set to transition successfully from youth athletics to the highly competitive arena of college sports


Thrive in college and succeed academically, athletically, and socially
With candid and insightful input from experts in college athletics, college counseling, high school guidance, athletic training, and strength and conditioning fields, you will be prepared to achieve your dream and succeed as a college student-athlete.
Reviews
"Stewart Brown has used his knowledge and experience to help you make a very difficult decision much easier. This book is designed to help anyone who is interested in competing in college athletics. Brown's insight will help you become more successful both as a student and as an athlete."
--Schellas Hyndman, Men's Soccer Coach, Southern Methodist University
"Stewart Brown has captured the complex process of college recruiting in a very readable how-to guide. The Student Athlete's Guide to Getting Recruited provides a map for the student-athlete and her family to help navigate the difficult waters of college recruiting. This is a must read for any high school athlete interested in competing on the college level."
--Gary Clark, Director of Athletics, Furman University
"Stewart Brown has used his knowledge as a college and high school coach to give outstanding advice to high school athletes wanting to play college sports. Any high school athlete aspiring to play college sports will benefit from reading this book."
--Randy Allen, Athletic Director and Head Football Coach, Highland Park High School
"The transition from high school to college athletics can be an exciting time but can be also a time full of confusion. This book is the first that can successfully guide a student from high school to excelling in athletics in college."
--Broadus Whiteside, Jr., Director of Compliance, Southern Methodist University Department of Athletics
"Intercollegiate athletics adds richness to our institutions of higher education and to the experiences of those student-athletes fortunate enough to participate. There are significant challenges, however, in moving from a successful high school student-athlete to a successful college student-athlete, and Stewart Brown's book does an excellent job of walking athletes and their parents through this complex process. His current, practical information and solid illustrations will help the prospective student-athlete immensely."
--Robert A. Hynes, Ph.D., Assistant Dean for Student Support Services, Fitchburg State College
"Stewart Brown captures all the information needed for the college bound student-athlete and their parents in The Student Athlete's Guide to Getting Recruited. This is an invaluable resource and filled with great tips. It is a must read for any young person considering playing sports in college at any level."
--Michael Scerbo, Women's Lacrosse Coach, Duquesne University
"Stewart Brown has done an excellent job in portraying the recruiting process. Most importantly he provides valuable information for students, parents and coaches. This book is an outstanding aid in helping students understand the recruiting process."
--Charles Breithaupt, Director of Athletics, Texas University Interscholastic League (UIL)
"Entering the process of preparing to be a successful student-athlete without a plan is like sending your team to a championship game without a coach. Stewart Brown's book should become part of the family library and the knowledge base that will help them successfully navigate the recruitment process."
Bob Collins, Editor, Student Athlete Scholarships Foundation
"I found The Student Athlete's Guide to Getting Recruited to be very complete in its content. The organization makes it easy to get the information you need quickly, and above all, I feel it embodies the 'current' state of college athletic recruiting in a way that benefits the student-athlete and the concerned parent."
--John Cossaboon, Women's Soccer Assistant Coach, Gonzaga University
"Future college athletes will learn many tips on how to succeed that most athletes learn by trial and error. As a former Academic All-American, I believe this information to be relevant to all high school and college athletes that want to succeed in the classroom and within the competitive arena of college sports. I will be helping my athletes utilize these tips for their own success."
--Kim Colon, Wakeland High School Head Soccer Coach and Academic All-American at Southern Methodist University
"The Student Athlete's Guide to Getting Recruited is an insider's look that provides the much needed roadmap to navigating your way through the often confusing recruitment process. This is a MUST read for any parent with an aspiring collegiate student-athlete."
--Terri McCracken, parent of high school student-athlete, Carrollton, TX
Buy Now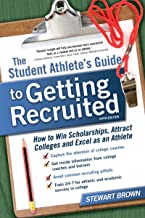 The Student Athlete's Guide to Getting Recruited
By: Stewart Brown
272 pages
Special Amazon Price: Click to View