Highlights
More than 1.5 million awards

Scholarships you can use at any college

Detailed information on eligibility requirements and how to apply

Insider advice on how to create winning applications

Helpful indexes to pinpoint the best scholarships for you

816 pages

Retail: $28.99

What's Inside
The goal of
The Ultimate Scholarship Book
is simple: To help you find free money. Inside you'll find the most up-to-date and comprehensive listing of more than 1.5 million awards. An easy-to-use index makes finding the right scholarships ridiculously quick. And it wouldn't be the Ultimate book without a section of little known insider tips and strategies that show you how to actually win the scholarships you find!
DISCOVER ONLY THE BEST SCHOLARSHIPS FOR YOU. No more wasting your time with scholarships that are only open to students at a single college or from a specific city. The Ultimate Scholarship Book lists awards that most students are eligible for—awards that are based on career and academic goals, public service, extracurricular activity, talent, athletics, religion, ethnicity and more.



FIND MORE SCHOLARSHIPS THAN ON A WEBSITE. Think the Internet beats books? Think again! You'll find more scholarships that are a match to you in The Ultimate Scholarship Book than you will ever find on a scholarship website. All awards are organized into easy-to-browse categories such as humanities, social science, science and the ever popular "general" category for awards that have almost no restrictions.



UNCOVER SCHOLARSHIPS NOT BASED ON GRADES OR NEED. You don't need a perfect GPA or financial need to win a scholarship. There are plenty of awards that have none of these requirements.



LEARN HOW TO WIN SCHOLARSHIPS. Why apply to a scholarship that you won't win? Learn rarely discussed strategies and insider tips to develop winning scholarship applications, essays and interview skills.
The Ultimate Scholarship Book
is the best investment you can make in your future.
TABLE OF CONTENTS
Chapter 1: How to Use the Ultimate Scholarship Book
Chapter 2: Where to Find the Best Scholarships
Chapter 3: How to Win the Scholarships You Find
Chapter 4: How to Write a Winning Scholarship Essay
Chapter 5: The Scholarship Resume
Chapter 6: Getting Great Recommendations
Chapter 7: Ace the Scholarship Interview
Chapter 8: Final Thoughts
Chapter 9: The Ultimate Scholarship Directory
Chapter 10: Scholarship Indexes
Reviews
"Upbeat, well-organized and engaging, this comprehensive tool is an exceptional investment for the college-bound."
--Publishers Weekly
"A present for anxious parents."
--Mary Kaye Ritz, The Honolulu Advertiser
"Upbeat tone and clear, practical advice."
--Book News
"Unlike other authors, the Tanabes use their experiences and those of other students to guide high school and college students and their parents through the scholarship and financial aid process."
--Palo Alto Daily News
"What's even better than all the top-notch tips is that the book is written in a cool, conversational way."
--College Bound Magazine
"A 'must' for any prospective college student."
--Midwest Book Review
"The Tanabes literally wrote the book on the topic."
--Bull & Bear Financial Report
"The college experience—start to finish."
--Town & Country Magazine
"Filled with student-tested strategies."
--Pam Costa, Santa Clara Vision
"The first book to feature the strategies and stories of real students."
--New Jersey Spectator Leader
Buy Now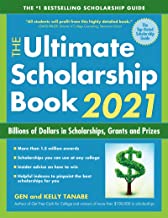 The Ultimate Scholarship Book 2021
By: Gen & Kelly Tanabe
816 pages
Special Amazon Price: Click to View