Highlights
A complete, step-by-step guide to the admission process

25 actual college essays - Learn from essays that worked

Tips for parents and 9th-12th graders

Lessons from true-life successes and failures of real students

How to craft an irresistible admission essay

How to master the interview

The secrets of creating a stunning application

How to ace the SAT and ACT

288 pages

Retail: $16.99

What's Inside
Based on the real-life experiences of students who were admitted to America's most prestigious universities, this guide provides proven strategies to get into and pay for any college. Detailing what 9th, 10th, 11th, and 12th graders can do to prepare, this updated edition addresses recent changes in admissions policies, the new SAT I exam, and the increasingly popular early-admissions option. Examples of applications, interviews, and 25 actual college-admission essays complement information on how parents can help without hurting, what it takes to ace the new SAT and ACT, and where students can find free cash for tuition. Stories of students' successes and failures reveal how the college admissions and financial aid processes really work, while giving a personal face to what is often seen as an impersonal experience. A section for special groups includes admission considerations for athletes, transfer and international students, students with disabilities, and home-schooled students.
Table of Contents
1. Discover the Key to Getting Admitted
2. The Neapolitan Approach to Picking Schools
3. Create a Stunning Application Form
4. How to Get the Right Recommendations
5. How to Write an Irresistible Essay
6. The Magic of Recycling Essays
7. Example Essays: The Good, Bad & Ugly
8. The Secrets of the Interview
9. Put on Those Finishing touches
10. The Alphabet Soup of Tests: How to Ace Them
11. How to Win Free Cash for College
12. Admissions for Special Groups: Athletes, Transfer Students, International Students, Adult Students, Students with Disabilities & Home-schooled Students
13. Get Started Before Your Senior Year: For Freshmen, Sophomores & Juniors
14. Groom Your Child for College: A Parents' Guide to Helping without Hurting
15. Decide Which College to Enter
Reviews
"The first college admissions strategy book that actually shows one how to get into college."
--New Jersey Spectator Leader
"What's even better than all the top-notch tips is that the book is written in a cool, conversational way and even offers anecdotal bits in their Stories From Real Life section."
--College Bound Magazine
"Get Into Any College delivers 288 pages of invaluable information ranging from the elimination of admission myths to successfully tapping into scholarship funds."
--Leonard Banks, The Journal Press
"This fast read, written by Harvard graduates, contains such advice as 'How to Master Verbal and Reading Tests.' (The short answer? 'Read like crazy') One chapter is devoted to helping parents guide without being heavy-handed."
--Town & Country Magazine
"Harvard grads educate teens on how to get into college. The Tanabes spent three years researching and writing the how-to book on college admissions, test-taking and essay writing. They wrote the book after recognizing high school students' need for concrete advice on how to beat the admissions game."
--San Jose Mercury News
"Applying for college can be a drag for high school seniors who don't always know exactly what admissions officers are looking for. Now there is a book that can help."
--The Daily News
"A good tool for teens. The book is jam packed with real examples including 23 actual college application essays, over 50 strategies to increase SAT and ACT scores, and special chapters for parents. It features student narratives showing applicants how the process does (and does not) work in the real world."
--Robin R. Plasterer, The Post & Mail
"The book is filled with student-tested strategies to help applicants write better essays that stand out from the pile."
--Pam Costa, Santa Clara Vision
"When you consider the costs of a four year college or university education nowadays, think about forking out $17 for this little gem written and produced by two who know."
--Don Denevi, Palo Alto Daily News
Buy Now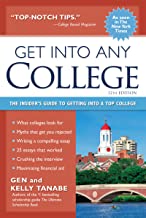 Get Into Any College
By: Gen & Kelly Tanabe
288 pages
Special Amazon Price: Click to View