Highlights
Complete profiles of 175 great colleges that don't emphasize grades and test scores in their admission decisions

Admission tips for overcoming less than perfect grades or test scores

Information on academics, majors, and what the colleges seek

Inside advice from students, counselors, and admission officers

Win free money for college with scholarships based on more than grades and test scores

Thrive in college by successfully managing your time and balancing academic and social priorities

336 pages

Retail: $19.99

What's Inside
High school students who get average grades in high school and don't ace the SAT or ACT discover that an exceptional college education is by no means beyond their reach in this guide. Along with information on what to look for in a college and what colleges look for in their students besides grades, this college reference provides details on more than 175 colleges that make it a point to help students who have not achieved a stellar GPA and includes information on whether colleges feature extra tutoring, help from professors, and distance-learning programs. Advice on the application process emphasizes the schools that look beyond GPA to the extracurricular activities and community involvement at which many average students excel. Quelling both students' and parents' fears about finding a good education with a less-than-perfect academic record, this guide makes it clear that it is always possible to find an excellent education.
Table of Contents
Section 1: Choosing: How to choose the right college for you
Chapter 1: Where to find colleges that welcome B students
Chapter 2: It's never too late: Make a change for the better right now
Section 2: Getting in: Beyond the basic application form
Chapter 3: GPAs, SATs and ACTs, oh my!
Chapter 4: Winning in writing: The all-important college essay
Chapter 5: Winning in words: The also-important college interview
Section 3: Paying: B students can win scholarships
Chapter 6: B students can win scholarships too
Section 4: Coping: Tips for thriving
Chapter 7: What is due when: The top ten of time management
Chapter 8: Am I having fun yet? The top ten of balancing social and studies
Chapter 9: Where's Mom when I need her? The top ten of living on your own
Section 5: The colleges: A guide to the colleges that welcome B students
Reviews
"This book contains practical information for any student searching for the right college 'fit' instead of simply trying to 'fit in' at the wrong college. From this small college's perspective, the 'solid B' student has the same chance as an A student to be successful in an environment where each is encouraged to develop his/her potential."
— Sandy Speed, Dean of Admission and Financial Aid, Schreiner University
"This book offers practical information and advice for students and parents alike. There
is a great school out there for you — America's Best Colleges for B Students will help you
find it!"
— Mark Campbell, Vice-President for Enrollment Management, McKendree College
"At last, a college resource book for real students and real families. We hear so much about how only over achievers get into good schools that we forget that college isn't just about grades and tests scores; it's about learning, living and moving forward. This is something that all students need, regardless of their high school performance. Tamra Orr has given families the tools to help their young adults find the perfect college for them. An invaluable resource!"
— Teri Brown, Author of Day Tripping: Your Guide to Educational Family Adventures
"Tamra Orr's refreshingly candid approach to the college search dispels the fear that B students and their families often face. An easy yet information-packed read!"
— Bethany Bierman, Assistant Director, Office of Undergraduate Admissions
Augsburg College
"Many hard-working kids (this book calls them B students) don't think they're college material because they don't have high college boards or the highest grades. In short order, this book dispels that myth! Tamra Orr has gathered helpful insights and suggestions that will, thankfully, elevate the expectations of such students to achieve college success."
— Patrick J. O'Brien, retired high school counselor, former Marquette Northern California admissions representative and current ACT ambassador
"This excellent 'advice' book is a must read for those students and their parents who want to understand and navigate the process and find the right match toward that important degree."
— Karen P. Condeni, Vice President and Dean of Enrollment, Ohio Northern University
"This book will be a terrific introduction to the college search process. The format offers helpful suggestions in a non-intimidating approach. For many high school students the college process becomes a seemingly insurmountable task. America's Best Colleges for B Students is a terrific introductory tool that outlines the basic steps to begin the college search process."
— Amanda (Mandy) Warhurst Webster, Senior Associate Director of Admission, Salve Regina University
"Tamra Orr's book is just what the 'not so perfect' student needs. The advice is to the point and incredibly useful. You don't have to attend a huge Ivy League school to get a superior education. Orr's book should be required reading for individuals of all ages who are thinking of attending college."
— Sandra Roy, educator and author
"What really makes a great student great? Is greatness limited to a letter grade on paper or a score on the SATs? There is so much more that factors into it like the sincere desire to not only succeed in the classroom, but succeed in life. There are some outstanding institutions of higher learning that understand that reality and offer programs from which B students will benefit the most as well as learning services that help them become better students. By offering an in-depth analysis of the best schools catering to the needs of real world students, this book will go far in helping families identify the best schools that suit individual needs. Education is not 'one size fits all,' and this book helps explain that — and will help anyone in search of higher education find the 'right fit.'"
— Jennifer A. Fiorentino, Director, Public Relations & Communications, Dean College
"With humor and insight, Tamra Orr sets the record straight about college admission, offering practical advice and hope to college-bound students. This book makes the important point that the college admission process doesn't need to be fraught with stress and anxiety. Many bright, interesting teens that underperformed in high school will recognize themselves in the pages of this book. Orr guides students in how to explore colleges where they can find themselves and achieve as never before."
— Joan Casey, College Planning Consultant, Educational Advocates
"Finally! A guide for motivated late bloomers — solid students who in the right environment will flourish. Tamra Orr has done her homework to provide you with the guidance and tips you need to find the college that's right for you — and help you succeed once you're there. Pack your suitcase for adventure and bring your drive, energy and personal commitment to achieve!"
— Esther Goodcuff, Associate Vice President for Enrollment Management and Student Affairs
Adelphi University
Buy Now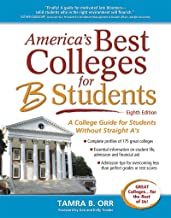 America's Best Colleges for B Students
By: Tamra B. Orr
336 pages
Special Amazon Price: Click to View