Highlights
Insider tips from top scholarship winners and judges

Secrets to writing winning applications and essays

Where to find the best scholarships

How to maximize your financial aid package

320 pages

Retail: $19.99

What's Inside
The secrets, tips and strategies used by actual students to win millions of dollars in financial aid and scholarships are revealed in this completely revised guide for parents and high school, college and graduate students. Every step of the scholarship process is examined, with advice on finding the right scholarships, crafting applications, writing exceptional essays and asking the college for a financial aid reassessment.
Profiles of scholarship judges give potential applicants insight into the scholarship selection process and the qualities that judges seek in selecting the winners. A fully updated scholarship directory contains the top 150 scholarships that anyone can win with awards worth more than $100 million; examples of winning scholarship applications, essays and interview questions and answers are also included.
Table of Contents
1 How to Get Free Cash for College
2 Find the Best Scholarships You Can Win
3 Avoid Scholarship Scams
4 Get Organized and Maximize Your Time
5 The Packaging of You and Your Personal Theme
6 Scholarship Judge Q&A
7 Create Stunning Scholarship Applications
8 The Scholarship Resume
9 Get the Right Recommendations
10 Secrets to Writing Winning Essays
11 Ace the Interviews
12 Strategies for Specific Scholarships
13 Guaranteed Scholarships
14 Unleash the Power of the Internet
15 Financial Aid Workshop
16 Free Cash for Graduate School
17 How to Keep the Money You Win
Appendix Winning Scholarship Essays and Applications
Directory 150 Scholarships (Almost) Anyone Can Win
Reviews
"A present for anxious parents."
--The Honolulu Advertiser
"Upbeat, well-organized and engaging, this comprehensive tool is an exceptional investment for the college-bound."
--Publishers Weekly
"Unlike other authors, the Tanabes use their experiences and those of other students to guide high school and college students and their parents through the scholarship and financial aid process."
--Palo Alto Daily News
"This is a helpful, well-organized guide, with copies of actual letters and essays and practical tips. A good resource for all students."
--KLIATT
"Provides a strategy guide and directory to over 400,000 awards."
--Reference & Research Book News
"What's even better than all the top-notch tips is that the book is written in a cool, conversational way and even offers anecdotal bits in their Stories From Real Life section."
--College Bound Magazine
Buy Now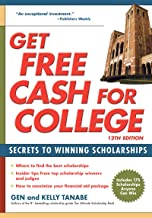 Get Free Cash for College
By: Gen & Kelly Tanabe
320 pages
Special Amazon Price: Click to View