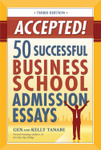 Accepted! 50 Successful Business School Admission Essays
By: Gen & Kelly Tanabe
With fierce competition to get into business school, your admission essays are one of the most important factors in whether or not you are accepted. This book helps you craft essays that market your strengths to b-schools while avoiding the most common mistakes.


224 Pages
Retail: $14.99
Special Amazon Price: Click to View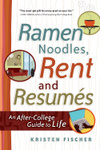 Ramen Noodles, Rent and Resumes
By: Kristen Fischer
Once the cap and gown come off, the pressure is on! As a recent college graduate, you may feel overwhelmed and frustrated trying to fit into the "real world." Highlighting dozens of real-life graduates who have navigated their way through this phase of life, Ramen Noodles is packed with valuable strategies for career advancement and personal growth.


224 Pages
Retail: $14.95
Special Amazon Price: Click to View